Family law issues are both complex and highly sensitive. From prenuptial agreements to consent orders, if your relationship has broken down Greenhalgh Pickard's experienced family law solicitors can assist you – with compassion and empathy – during this difficult time.
Greenhalgh Pickard can provide practical and professional advice and wide-ranging family law services, including:
Assistance with out of court settlements
Complex asset pool structure and tax issues
De facto relationship rights and responsibilities
Dispute resolution and mediation
Pre-nuptial agreements (binding financial agreements)
Property division litigation
Property protection injunctions
Whether you and your partner have children, are a couple with no kids or are empty nesters, if you are about to separate or are separated, it's important to find out what family law issues may affect you.
For expert legal advice on all family law matters, with steps taken to minimise your stress, you can count on Greenhalgh Pickard.
Divorce legal services
Are you considering a divorce or separation?
Divorce in Australia is a relatively simple process that you can complete yourself, as there is no requirement that one party be at fault.
For the court to grant a divorce, all that is required is:
That the parties had been validly married
The parties have been separated for at least 12 months
Appropriate arrangements have been made for the care of the children of the relationship (if there are any)
You are not even required to reach agreement as to how assets – for example, your house, cars, furniture, savings, superannuation, businesses etc – will be divided before obtaining a divorce.
However, an application for the allocation of assets is required to be made within 12 months of divorce and it's important that you consult with a divorce lawyer well before the time limit for property settlement expires.
If you want help obtaining a divorce or property settlement, or you simply want legal advice prior to separating, get in contact with Greenhalgh Pickard today on (07) 5444 1022. Our family lawyers are dedicated to achieving you the best outcome and ensure full confidentiality.
Greenhalgh Pickard's family law solicitors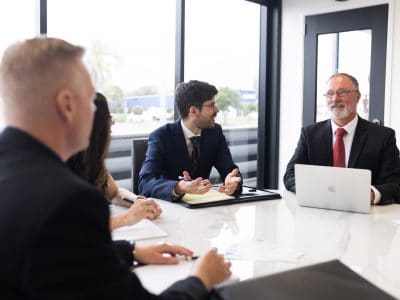 What is a Directors Penalty Notice (DPN)? A DPN refers to an ATO issued notice for unpaid tax liabilities which directors can become personally liable for. As we enter into the recovery phase of the pandemic, the ATO is recognising the resumption of...
Contact Your Nearest Office
If you are interested in meeting with an accountant or lawyer regarding your business or commercial interests, please fill out the form to book an appointment or call (07) 5444 1022