Greenhalgh Pickard have been our solicitors ever since my wife and I retired and moved to the Sunshine Coast in 2012, and they have carried out a number of different services for us over that period.
During all of our dealings with them, we have found them to be not only knowledgeable, professional and timely in carrying out the various services for us, but their solicitors and administration staff alike have always gone out of their way to make us feel completely comfortable and have shown a willingness to provide whatever advice and guidance we have sought.
We have pleasure in unhesitatingly recommending them to anyone who is seeking any sort of legal representation or advice.
They are true professionals.
Scott Lorback from Greenhalgh Pickard, provided me with expert advice in relation to the preparation of my Will.  I appreciated his humane and warm approach but his attention to detail was also, exemplary.  He was able to empathically guide me through the legal considerations of the preparation of the necessary documentation to allow me the security of knowing my wishes would be recorded in a manner that would allow my significant others to attend to my affairs. Scott was generous with his time and patient and clear with his explanations. 
Greenhalgh Pickard were incredible. This would have had to be put down as one of the hardest and longest settlements in Australian history but the support and help this firm provided was second to none. Shania was our solicitor and she was always contactable and no matter what the situation was always kept us feeling positive, whilst being honest. Could not fault their service. Highly reccommend to anyone needing a conveyancor! Will always use them in the future!
It was an amazing one day turn around for settlement due to unforeseen reasons, my previous conveyancer was not able to complete settlement.  Due to David's support, communication, clarification and  team work with me, we were able to successfully settle my new property within a very short time. Highly recommend. WELL DONE!
A massive big thank you to Rob Hollis and the team at GreenhalghPickhard, amazing service in recently handling all my personal affairs, Rob you were truly amazing from start to finish, I have used GreenhalghPickhard for over 15 years to handle all my affairs, they have never disappointed me yet, 100% record, once again Rob, big thank you mate and to all the amazing staff, fabulous job again, I would have no hesitation in recommending GreenhalghPickard.
We sold our property through Jess at GP entirely online. Very quick, easy and straightforward process. Jess is a complete professional and lovely to deal with. Cost to do business was very reasonable and we will continue to use them in future if the need arises. Thank you Jess and the GP team!
Absolutely blown away by the professionalism, friendliness and attention to detail. From the first phone call with this company, they were simply fantastic. John Greenhalgh went above and beyond what I expected. Taking the time prior to our meeting to follow up directly with lawyers in South Africa, just so he would be fully prepared and ensure all paperwork was handled without a hitch. Thank you for helping to ease pressures from my side. You guys are amazing.
My siblings engaged the services of Scott and the team to contest my father's will and estate. They kept everyone informed every step of the way through the process and at all times put the best interests of my siblings first and foremost. The outcome they achieved was nothing short of outstanding and exceeded our expectations. I commend Scott and the whole team for their efforts and would have no hesitation in recommending their services.
Very happy with the service from Jessica and the team at Greenhalgh Pickard. This was my first time purchasing a home so I didn't quite know what to expect - Jessica gave great advice and the process was executed flawlessly. Highly recommend.
Gabrielle Worrall
2023-11-28
The legal and accounting teams have been great to deal with and very professional, definitely reccommend!
We used Greenhalgh Pickard Solicitors for the purchase of our property. Professional, efficient, and approachable. Thanks so much to Ella and the team. We will be sure to use them again.
Very happy with every part of our dealings with Greenhalgh Pickard Solicitors. Everyone involved made us very comfortable and were very helpful and clear with any questions we had. Would highly recommend.
Highly recommend the team at Greenhalgh Pickard after our experience with them. Highly professional, friendly and excellent communication at all times! Very grateful for their prompt service.
Eloise was very helpful in assisting on some business matters. Her and her team were very professional and knowledgeable and provided assistance in a timely manner.
Haileigh Stokes
2023-11-16
I highly recommend Tori and the team. Tori has been an incredible help with my recent commercial property lease. Tori took the time to explain everything and was always easy to contact via phone or email.
This is the second time I have engaged the team at Greenhalgh Pickard and I cannot recommend them highly enough. Jessica went above and beyond to help me secure a block of land interstate and I can not fault her level of expertise, professionalism or friendliness. I was always kept informed and any questions I had were answered swiftly. Jessica made this process seem simple from start to finish and I am very happy. Thank you Jessica.
I am very impressed with the professionalism this firm shows as well as their speedy responses. They could not have been more helpful and I will definitely use this firm again when the need arises
Pamela Stanley
2023-10-30
Fabulous and prompt service! Good solid advice delivered in plain English. Thank you to everyone who assisted me, I would highly recommend you to anyone who asked and will definitely use this firm for any advice I require in the future.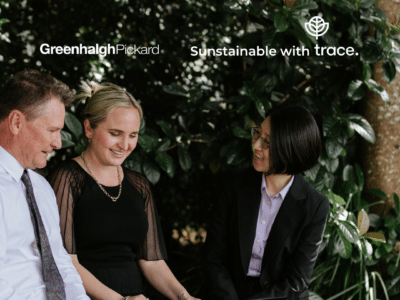 Green is not just in our name, it's in our nature. Our journey to Climate Reporting has been a simple and effective process with many benefits. Climate reporting is a subset of sustainability reporting that specifically centres on an organisation's actions to...
Contact Your Nearest Office
If you are interested in meeting with a lawyer or accountant on the Sunshine Coast regarding your business or commercial interests, please fill out the form to book an appointment or call (07) 5444 1022